SpeedFlow –
Speed measurement for solids
Speed measurement for solids
Usable in free fall and in pneumatics
Continuous speed measurement of solids (powder, granules, dust ) in metal pipes
Measurement directly in the conveying stream / entrained flow
Measurement is completely independent of material
Simple retrofitting using a welding socket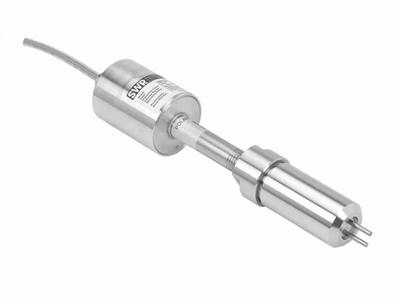 Use
The SpeedFlow was specially developed for the continuous measurement of the speed of solids such as granules, powder and dust in metal pipes.
The sensor can be used in free fall lines or in pneumatic conveyors. The measurement is completely independent of the material. The range of application can start with a material speed as low as 0.75 m/s.
Function
The SpeedFlow uses the triboelectric effect. When solid particles fly past and impact the 2 sensor rods, this leads to a charge transfer (induced voltage). These electric signals are fed to the correlator, which precisely determines the runtime between the two rods. With the defined distance of 8 mm between the two rods, the speed can thus be determined. The commissioning takes place in the installed state. The speed is output as a 4 … 20 mA signal.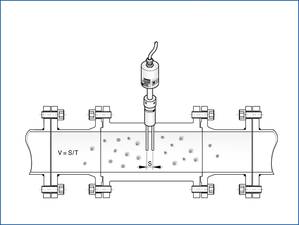 Mounting and Installation
For the assembly of the sensor, the installation location is specified in accordance with the conveyed inlet and outlet paths. The socket is welded on at the specified installation location and then a borehole of 20 mm is drilled through the socket and through the line. The sensor is then adjusted to the wall thickness, inserted and fixed with the help of the coupling nut. The distance between sensor and analysis unit can be a maximum of 300 m.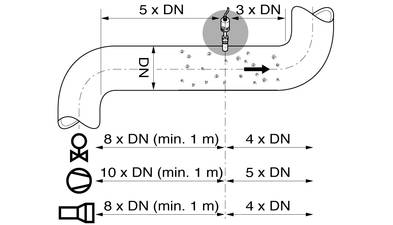 Technical Data
| | | |
| --- | --- | --- |
| Sensor | Socket | St 52 or stainless steel 1.4571 |
| | Rod | Tungsten Carbid (abrasion-resistant) |
| | Housing | Stainless steel 1.4571 |
| | Protection category | IP 65 to E 60529/10.91 |
| | Rod length | 15 mm |
| | Velocity range | 0.75 … 35 m/s |
| | Temperature inside the pipe | -20 … 80 °C (higher temperatures available on request) |
| | Temperature outside the pipe | 0 … +60 °C |
| | Weight | approx. 1.5 kg |
| | Dimensions | Ø 60, Ø 20, length 320 mm (including rod length) |
| | Measurement accuracy | ± 1% (in the calibrated measuring range) |
| | | |
| Transmitter | Power supply | 24 V DC ± 10 % |
| | Power consumption | 20 W / 24 VA |
| | Protection type | IP 40 nach EN 60 529 |
| | Ambient operating temperature | -10 … +45 °C |
| | Dimensions | 23 x 90 x 118 (W x H x D) |
| | Weight | Approx. 172 g |
| | DIN rail fastening | DIN 60715 TH35 |
| | Connection terminals cable cross-section | 0.2 – 2.5 mm² [AWG 24-14] |
| | Current output | 4… 20 mA (0 … 20 mA), load < 500 Ω |
| | Switch output measurement alarm | Relay with switchover contact – max. 250 V AC at 1 A |
| | Data backup | Flash memory |
| | | |
| C1-Box | Dimensions | 98 x 64 x 35 mm (W x H x D) |
| | | |
| | | |
| | | |
| | | |